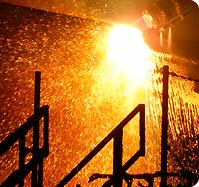 Flame Plants & Torch Safety Applications
Donze Manufactures the Critical Components for Safe Operation of Flame Plant Safety
Oxygen Filter MDZ 101
Donze manufactures specialized oxygen filters that are installed on oxygen supply lines to prevent particulates from entering the oxygen distribution systems or equipment.
Donze designs and builds filters for specific customer requirements and torch safety applications. The filters are machined from inert material with oversized filtering elements to prevent partial obstructions and to reduce maintenance costs.
Storm Pilot Flame MDZ
The stainless steel MDZ Storm Pilot Flame controls the safe remote ignition of torches/blowpipes in flame plants.
It is used in plants for ladle and furnace burners, caster cut off applications, and oxycutting, and scarfing systems.