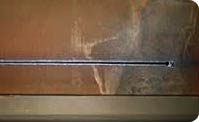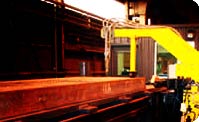 Steel Slitting Benefits
The benefits of dross-free slitting are:
There is no secondary process. Slabs can be lifted directly from the steel slitting machines and rolled, reducing stock inventory and improving customer delivery time. Elimination of the secondary process reduces labor costs and "frees up" the crane for other duties.
The risk of damaging or breaking slabs by turning them over with magnets for de-burring is eliminated.
Dross-free steel slitting is only successful when cutting at faster speeds than conventional systems. Faster cutting not only improves yield but also increases throughput.
Dross can be removed by scarfing or by dragging the slab over a pile of slabs. In either case, the slab must be turned over to verify removal. In both cases, there is inevitably the risk of damaging the ropes and hoist of the crane. The system requires no additional crane movement and consequently reduces the costs of crane maintenance.
Automatic dross-free slitting is "What it is" - automatic. No longer are steel mills reliant on someone doing his job correctly all the time.
Less manpower is required to operate the facility.
Steel slitting dimensions are controlled by computers, not tape measures. Cutting is far more accurate than any manual system.
All cutting parameters and machine performance are monitored and permanently recorded. Operational management can access production records at any time and monitor performance and operator productivity.
Manual steel slitting is labor intensive, environmentally unfriendly, hazardous, and dirty. Automatic slab cutting improves the working conditions of employees, is a significantly better system with a much improved process control, and is much safer than the manual process.
Slab slitting data is transmitted in "real time" to the scheduling department. The system prevents the operator from cutting a slab on the machine until the data from the previous slab are transmitted.