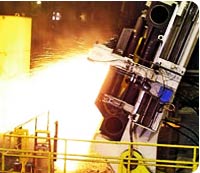 Steel Cutting
Preventing Burr Formation with Levy's Automated Cutting System Lowers Cost and Improves Slab Quality
The Edw. C. Levy Co and Donze, a Levy subsidiary specializing in gas and oxygen equipment, have developed the Burrless Slab Cutting Machine. The Burrless Slab Cutting Machine is revolutionizing how steel makers cut steel slabs without burr formation.
Traditionally, manual steel cutting is labor intensive, environmentally hazardous, and prohibitively expensive. In addition, cutting residue left behind in the form of burrs by current slab cutting processes causes downstream processing obstacles ranging from re-heat, furnace and roll damage, imperfections, rejects, and flume wash-away blockage.
By using one operator on an automated steel cutting machine and through eliminating burr removal labor and pre-heating of certain steel grades, mills realize significant cost savings. In addition, improved yields and enhanced quality further benefit slab burrless cutting performance.