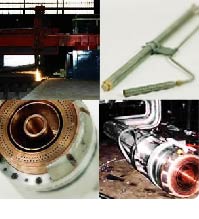 Heating and Cutting Torches
Machine Blowpipe MDZ 853
This torch is an efficient and flexible steel cutting tool allowing a wide range of cutting patterns.
The MDZ 853 is ideally suited for caster cut off applications and the cutting of thick steel structures up to 800 mm.
Manual Scarfing Torch MDZ 401
This scarfing blowpipe with oversized oxygen valve allows 100 mm width scarfing passes without unnecessary digging into the work piece.
Applications include total or selective steel conditioning and slab deburring operations.
Scarfing Torch MDZ 2056
This scarfing blowpipe is a fourth-generation cutting torch optimized for application in Levy's slab conditioning systems.
New levels of performance are achieved in this low-pressure steel cutting torch with sub-sonic oxygen flow, producing an equalized heat sink and a much flatter scarfing pattern.
MDZ 853 with AV00026 Nozzle
Donze has developed a high-speed cutting torch that cuts steel at 36" per minute on 8-3/4" thick steel on continuous casting machines (hot) and as high as 14" per minute on cold steel of the same thickness.