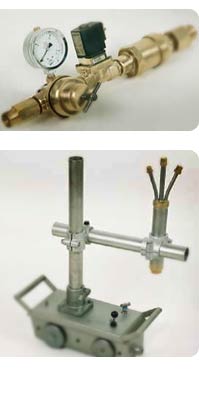 Flame Plant Design and Turn-key Flame Plants
Donze Can Assist in Flame Plant Design or Provide Turn-key Flame Plants
Gas Pressure Regulation Lines MDZ
This equipment is compact and comprises a gas pressure regulator, an electrically operated valve, and safety appliances (flashback arresters).
These products allow fast and easy mounting and dismounting of flame equipment components for periodical servicing, all part of Donze's turn-key plant design.
Being light and small, the alignment of their inlet and outlet joints make them easy to install on existing pipes.
Regulation lines are available for all types of oxycutting gases and adapted to flow rates up to 250 Nm3/h with 15 b upstream and 12 b downstream.
Pneumatic Oxycutting Boggie MDZ 101
The MDZ 101 is a self propelled boggie designed for flexible and user friendly operation in your flame plant design. It is deployed for hot workpieces up to 200 degrees Centigrade. Applications include oxycutting of slabs, billets, thick sheets, and cutting of head scrap.